Jiro Dreams of Sushi
I'd been hearing bits and pieces about Jiro Dreams of Sushi for a while and drooled over the trailer a few times, but never really got around to watching it despite its 98% on Rotten Tomatoes.  Last week, however, a foodie friend posted about it on Facebook, and I ended up having some good sashimi on Sunday, so I finally decided I need to watch this!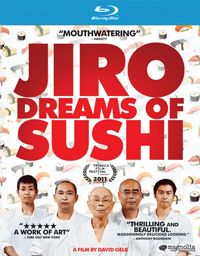 The first thing I have to mention is that the order of the topics in the movie didn't completely make sense to me.  I was typing some interesting points on my phone as I was watching, and reading back on them now, they seem kind of random.  They would bring up Jiro's sons, then talk about daily fish purchases, mention his apprentices, talk about his personal life again, then talk about his daily rice purchases… I'm going to reorder topics in this post in a way that makes more sense to me!
I never realized so much went into sushi – or perhaps this much only goes into really good sushi.  I liked watching his hand movements while sculpting a piece of sushi, as they were very deliberate and consistent, but also very artistic and beautiful.  I've commonly seen people in the US mix wasabi into their soy sauce and dip the sushi in, but from what I've read and heard, that's not the "accepted" method in Japan.  In the movie Jiro put wasabi between the fish and the rice, then brushed soy sauce on top, and it was expected that you just eat the entire piece of sushi in one bite as is.  It puts so much trust and pressure on the chef to prepare food perfectly the way everyone enjoys!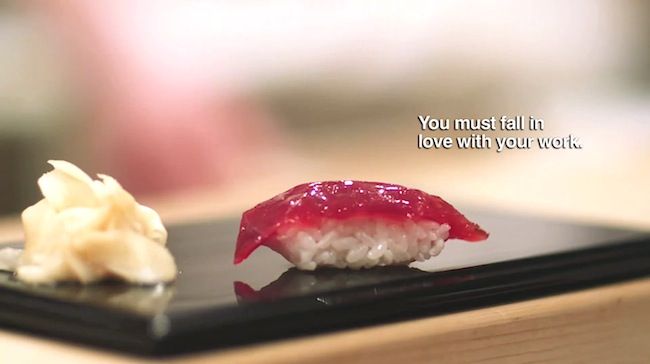 It looks like it would be intimidating and maybe a bit awkward to eat there – he places one piece at a time on a plate in front of you, so you have to keep up with his meal pace, and he is always there in front of you.  I don't know what I would do if I didn't like one of them – I wouldn't want to show it to him, and I'd have to eat it since the meal is so expensive (over 300 US dollars)!
I had never thought about where the fish comes from before.  One of my favorite parts of this movie was when they talked to the tuna dealer.  I find it so interesting that he specializes in tuna – all he does all day is select, buy, clean, and sell tuna.  The dealer said he could tell if the tuna will taste good by its texture – I can't even imagine knowing anything so well.  The tuna auction looked so chaotic but exciting at the same time, and it was neat to see all the huge tuna lined up on the floor.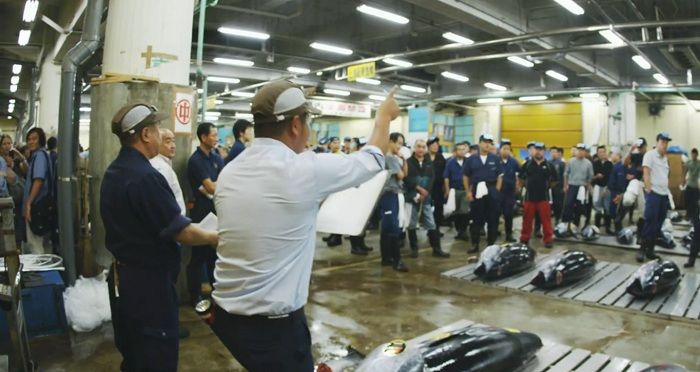 Shrimp, octopus, rice… everything they select and buy in the morning for that day!  He said that they massage the octopus for 40-50 minutes – it blows my mind that they pay that much attention to everything, just to serve one small piece of each type of sushi to each person.  I wonder if the octopus was alive while massaging though… and if not, if they massage before or after cooking.  They were slicing the eel while it was still alive; they staked it behind its head to the cutting board then sliced the body in half.
The movie mentioned that apprentices are under Jiro for 10 years.  For how much of a perfectionist the movie kept painting him as, he wasn't as mean or strict to the apprentices as I expected – unless he acted differently for the movie, of course.  I don't think I would be able to handle doing the same thing every day all day for 10 years.  With my personality, I can't handle doing the same things every day!  The biggest thing that caught my attention, though, is that the apprentice said that one of the last things they are allowed to do is to make the egg sushi.  The highest honor isn't even to make sushi involving fish!  I am now certain I don't understand the art of sushi at all.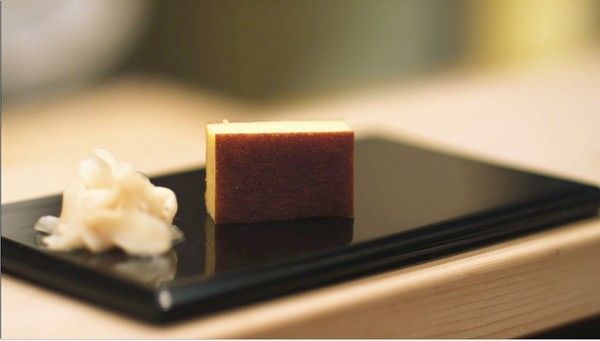 The one thing that irritated me about this movie, though, was gender bias, both by Jiro and in the focus of the movie itself.  At one point he tells his customers that he makes smaller pieces of sushi for the females, so that the meal moves at a consistent pace and everyone finishes pieces at the same time.  Such bullshit!  I want just as much sushi as anyone else.  And some women can eat more than some men.  I understand Japanese culture does still put more emphasis on sons and child order (his oldest son is still working under him since he is expected to take over for his father, but his second son got to open his own separate restaurant), but I thought Jiro himself might not be as traditional, since at one point, he says something like, "Why should I respect my parents, they never did anything for me!".  The movie never mentions his mother or wife, and Jiro himself only mentions his wife once.  In fact, I'm still not sure if she is alive or not.  I googled "Jiro Ono wife" to find out and I just got a bunch of reviews talking about the lack of mention about those two females in his life.
Overall, a very enjoyable mouth-watering movie.  I need to go have some sushi this week now.