More Suzumiya Haruhi
I remember last year they released the Suzumiya Haruhi movie in Japanese theaters and [Mazui] made a cam fansub (meaning guy sneaks a video camera into the theater). Unfortunately, the video was slanted at 30 degree angle and terrible resolution, so I had to postpone my viewing till they released the DVD/BluRay in Dec 2010. I recently started updating all my old anime to 1080p/720p and came across this forgotten thing.
After they trolled us with eight identical episodes in Season 2 of Melancholy of Suzumiya Haruhi, I wasn't expecting any sort of masterpiece. Honestly, I've never really liked Suzumiya Haruhi's character very much. Kyon, and more specifically Kyon's seiyu Tomokazu Sugita, is the main reason I watch this series. His cynical commentary on everything Haruhi does is the highlight of each episode for me. So I guess it should please me that the movie is very Kyon monologue heavy and also much more Nagato centered.
What is strange is that Haruhi and Kyon have pretty much no development at all in the movie. In fact, Haruhi is absent from the majority of it, and her disappearance only serves as the plot driver. At first I was kind of annoyed by this, given that I expect to see some sort of development in their relationship. However, I realized that this movie is based off a single novel, so it probably was the novel used to develop Nagato. Makes a lot more sense if you think of it like that.
Haruhi disappears and Kyon needs to figure out why. There is some time travel and randomness and somehow Kyon ends up reverting time to go back to normal. I didn't particularly like the plot too much. It seemed kind of stupid and didn't make much sense to me. Then again, most of the storyline of Season 1 and Season 2 aren't particularly interesting. It's mostly the interactions that are fun to watch.
What I did like was how they portrayed Nagato as a super shy and embarrassed girl with a crush on Kyon. There's always been that underlying feeling that the robotic Nagato actually is hiding a ton of emotion underneath her emotionless speech, but it all came flowing out here. The shift in character was so startling. I have to admit I really enjoyed it when she grabbed Kyon's sleeve to keep him from leaving. That scene was probably the best part of the movie for me. It is somewhat sad though that even though Kyon seems to care a lot about her, he clearly is still focused entirely on Haruhi.
Serious Nagato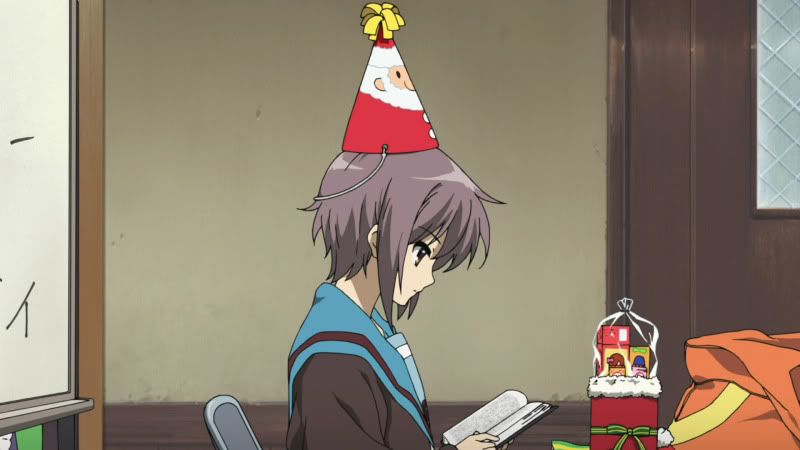 Versus Shy Nagato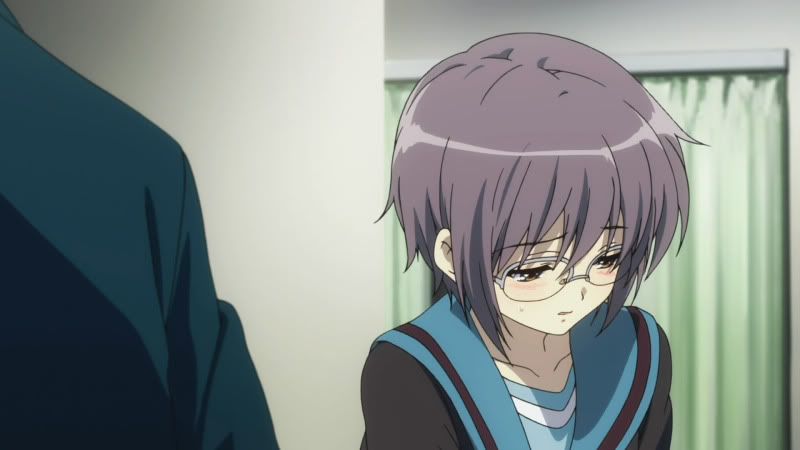 Mikuru continues to annoy me. The only point where I liked her was when both her present and future self were there and Kyon refers to them in the plural "Asahina-sans".
Kyon once again ends the movie in the exact same way. He has a long monologue in his head where he admits to himself that he in fact likes spending time with Haruhi despite the fact that she bosses him around. I find it strange that this is the EXACT same ending to season 1, with an almost identical revelation. Like I said earlier, I had hoped he would progress his relationship with Haruhi a bit more, but in the end it stayed pretty much the same. I tend to rate movies and animes heavily on the ending and the impression it leaves me with, and so this is quite the let down.
Overall, the movie was alright, although long as hell (2hr 40 minutes or so). I don't think I will be re-watching it anytime soon though, unlike season 1 which has a few episodes I re-watched multiple times. I liked some of the dialogue and Nagato is now a lot more interesting. It's a big improvement over Season 2 though, so when they inevitably milk the cash cow more with season 3, I'll be here to watch it.
Nagato Final version, inbetween super serious and super shy