Expenses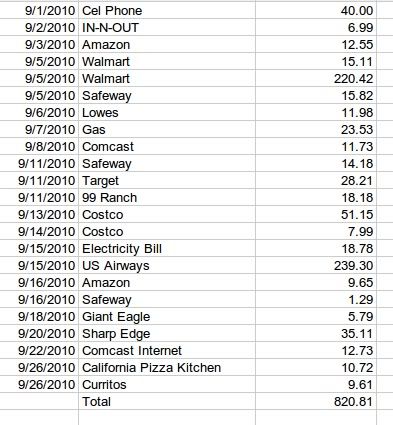 September is the first month completely without Allison. Therefore, I figured it would be informative to share my monthly expenses.
This month had two unusual purchases. First was the $220 at Walmart for my bicycle/helmet/air pump/lock which I now ride to work everyday. This cost, in theory, will eventually balance itself as I save 6 miles of gas and car wear per day. Given the Eclipse's modest 18MPG city (probably worse now that it's 9 years old) and an average $3.25/gallon, I'd say that it saves around $7 a week. There was also my plane ticket home for $240 which, although phenomenally cheap, was not a typical expense. Albeit, this was partially counteracted by the fact that I had no food expenses while I was at home.
In total though, I think that is pretty reasonable. Combined with my rent of $687.50, I hit $1508.31 total this month. If you take into account those unusual purchases, I'm sitting very close to my goal of $1200 total per month.