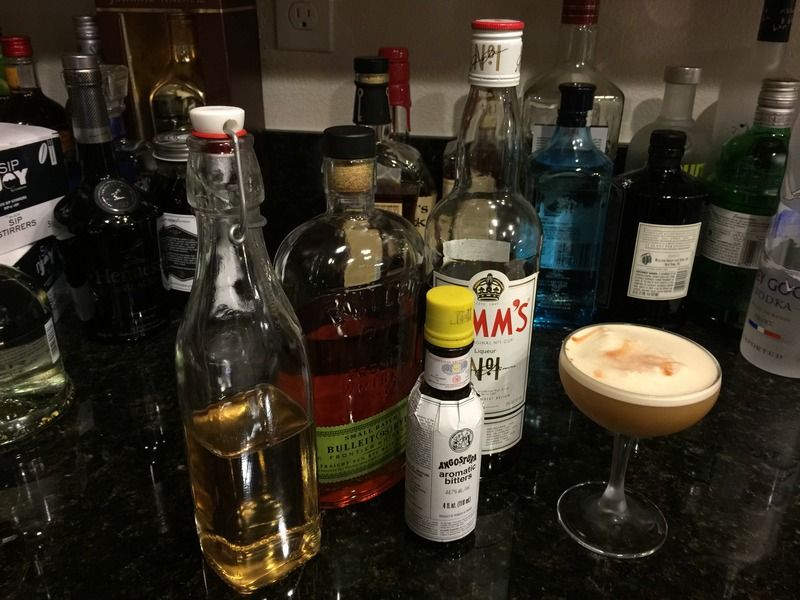 Fenway Flip
1oz rye whiskey
1oz pimm's no 1
0.75oz cinnamon syrup
1 egg (both yolk and white)
3 dashes of angostura bitters
Add whiskey, pimm's, cinnamon syrup and egg. Shake without ice first. Then add ice and shake again. Drop a few dashes of bitters on top and swirl with a toothpick.
The Fenway Flip was another amazing drink we got at singlebarrel. I was ordering at the bar with another friend who wanted a flip. The bartender started describing a bunch of different flip cocktails she knew, listing out what the primary flavors and tastes. Most of them were fruits or more typical things you would expect, but the last thing she said was "french toast". That was intriguing enough for him to order the Fenway Flip. I'm a big fan of this drink. It has this hearty, spicy flavor and a thick, creamy consistency that really tastes like you're eating breakfast.
I made some cinnamon syrup by adding two cinnamon sticks to my normal simple syrup recipe and letting it infuse for a few hours. The result was great and now I need to try subbing in cinnamon syrup instead of normal simple syrup in a bunch of other drinks.